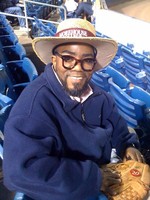 ROPER Jonathan Roper, age 40 of Stratford, entered eternal rest Monday, August 22, 2011 at Bridgeport Hospital. Born in New York, N.Y., he was a resident of Stratford for over a year. He was an entrepreneur/producer for his brainchild, Banjo Treasures for twenty years. Jonathan was an alumnus of Morehouse College. Jonathan was a member of Abyssinian Baptist Church and a former member of First Baptist Church of Stratford where he served on the men's fellowship.
In 2011 he started the Jonathan & Elaine D. Roper Foundation with a scholarship in the name of Nikki Giovanni & Elaine D. Roper at Lauralton Hall High School in Milford. He was prede-ceased by his mother, Sue M. Sauls. He is survived by his wife, Elaine Little Roper; four sons, Hathaway, Cullen, Ellison and Tanner Roper; two daughters, Giovanni-Marie and Morrison-Neale Roper, all of Stratford; two brothers, Andrew and Donnie Sauls of New York; three nephews; one niece; and other relatives and friends.
A Memorial Service was held Saturday 11a.m. at Abyssinian Baptist Church, 132 Odell Clark Place (formerly 138th Street ) New York, N.Y., with Reverend Ebony Turman, officiated.