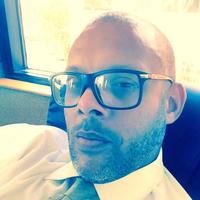 Steven Troy Cunningham
1970-2017
Troy Cunningham was born to Captain William Cunningham and Josephine Merritt Tervalon on November 4, 1970 at the U.S. Army Hospital in Vicenza, Italy.
As goes the life of a military family, they relocated several times before settling in Houston, TX in 1980 where he spent the remainder of his childhood. He graduated from Klein Oak High School in 1988. He was an athlete and an active member of Houston Chapter of Jack & Jill of America. Troy attended Morehouse College in Atlanta, GA where he earned a Bachelor of Business Administration in Business Management.

After college, Troy returned to Houston for a short time before relocating to Southern California for a business opportunity. He lived in Los Angeles, his adopted home, for 16 years. In his spare time, Troy was an avid surfer and enjoyed expressing his creativity writing poetry, screenplays and directing short films.

Troy transitioned from this earth on November 16, 2017 in Los Angeles, CA. He has left numerous friends and family to cherish the memories of his trademarked dimpled smile and passion for life. He is survived by his parents, Josephine (Albert) Tervalon and William (Patricia) Cunningham; brother, Charles Cunningham; step siblings, Albert III, Mark, Brett and Tasha Tervalon; uncles Joseph and Bernard Merritt; aunt, Betty Brown; and a host of cousins.

A Homegoing celebration will be held at the Cypress Creek Christian Church, 6823 Cypresswood Drive, Spring, Texas 77379, on December 2, 2017 at 10 am.

In lieu of flowers contributions may be made to the Josephine Cunningham Tervalon Scholarship Fund for the Group Foundation for Advancing Mental Health. Donations accepted online at www.agpa.org or by check to 25 East 21st Street, 6th Floor, New York, NY 10010 or call 877-668-2472. The contribution should be labeled: Josephine Cunningham Tervalon Scholarship Fund in Memory of Troy Cunningham.
Published by Houston Chronicle on Nov. 30, 2017.